What a shame this England didn't show up in Russia last summer. Firmly wedded to their fatally flawed 3-3-2-2 system, Gareth Southgate and Steve Holland threw away their country's best chance of winning a World Cup in decades. Blessed with acres of space, Croatia's free full-backs eventually decided June's semi-final at England's expense. And, in September, Spain's Dani Carvajal and Marcos Alonso ran riot throughout the Three Lions' opening day Nations League reverse. For Southgate, that deflating Wembley defeat finally heralded a long-overdue tactical change-of-heart — and not a moment too soon either.
Southgate's 3-3-2-2 duly gave way to a 4-3-3, the same base system favoured by both Spain and Croatia. But early signs were decidely mixed, as a stodgy English midfield failed to ignite throughout October's behind-closed-doors stalemate with the Croats.
The case for inclusion of both Eric Dier and Jordan Henderson in the central midfield area appeared weak at that point. Southgate, again, took note: hand forced by Henderson's suspension for the trip to Seville, the 48-year-old instead employed the more cultured talents of Tottenham's Harry Winks.
Clicked into gear
And with that, Southgate's 4-3-3 clicked into gear in sensational fashion, igniting England's at-that-point moribund Nations League campaign along with it. His front three, spearheaded by Harry Kane with Raheem Sterling and Marcus Rashford on the flanks, engineered England into a 3-0 lead by half-time. Spain's full-backs, who enjoyed so much space the prior month, were nowhere near as influential: worrying about the likes of Sterling and Rashford running in behind you has a way of slowing one's roll.
A side who had created little in open-play all summer, relying almost exclusively on set-pieces, all of a sudden looked both menacing in attack and no less solid in defence. Spain's shock defeat to Croatia served England an unexpected opportunity to capitalise on this unlikely turnaround in fortunes: beat Croatia at Wembley and a spot in next summer's Nations League finals would be theirs.
Zlatko Dalic, mastermind of the small Balkan nation's incredible run to the World Cup final, had other ideas, however. Cognisant of how poorly his side had pressed England in the first-half of July's semi-final, the Croatia manager enacted a tactical tweak of his own. Robbed of Ivan Rakitic through injury, Dalic abandoned his own 4-3-3, asking Everton midfielder Nikola Vlasic to mark Dier instead. 4-3-3 therefore gave way to 4-2-3-1, and Mateo Kovacic — an expected starter — had to make do with a seat in the dugout.
Bamboozled
And for all of 10 minutes, Dalic's plan worked perfectly. The same high-press that bamboozled Spain only three days earlier was evident again. And Fabian Delph, given the nod ahead of Winks to help "balance the midfield" in Southgate's words, fell victim to it with only three minutes on the clock. Fortunately for England, Ante Rebic, a surprise choice to replace retired striker Mario Mandzukic, reprised his headless summer showings by blazing over an open goalmouth.
Rebic, a winger by trade, rotated liberally with Ivan Perisic and striker-by-trade Andrej Kramaric. But it was England's talent for fluid interchanges that really caught the eye. Tasked early on with dropping in between his centre-backs, Dier instead began to rove wide away from Vlasic's clutches to help England work the ball forward.
At the same time, Kyle Walker, who had started the game high and wide at right-back, began to drop into centre-back positions instead. Meanwhile, both Delph and particularly Ross Barkley drifted extremely wide from their central midfield positions to find space. Dalic's midfield man-marking system was duly rendered moot, and England began to work the ball in behind the Croats' high defensive line at will.
Three clear-cut chances
Southgate's side created three clear-cut first-half chances from this avenue, making a mockery of Croatia's pressing intentions. The sight of Dejan Lovren getting turned by Harry Kane on the halfway line, in the lead-up to Sterling's fluffed chance, rather summed the whole farce up. Midway through the half, after Kane had somehow missed from the resultant corner and saw a subsequent effort cleared off the line, Dalic finally gave up the high-press ghost.
Croatia sat far deeper from that point on, allowing England to possess the ball benignly in their own half. And, aside from the long ball Jordan Pickford planted on Rashford's toe, the flow of chances at goal — and the game itself — slowed to a near standstill. Only the collective press Southgate has so impressively effected caught the eye in the lead-up to half-time. Croatia's full-backs, so untroubled in Moscow, were hassled into six turnovers between them, as England penned their old foes into the corner at every available opportunity.
With Rakitic absent and a tired Modric resembling a pale imitation of his usual effervescent self, Croatia's ability to work the ball forward productively was almost non-existent. Only Marcelo Brozovic stood out among Dalic's midfield cohort, but more for the volume of defensive work he got through than any attack-prompting interventions.
First blood
England, with Rashford regularly applying the afterburners to evade Tin Jedvaj, remained dominant at the beginning of the second-half. Yet it was Croatia, improbably, who drew first blood: thanks, in the main, to England's longstanding issue with plugging gaps between the lines.
Despite dropping his risky policy of playing two number-10s ahead of one holder, Southgate was forced to watch on as Vlasic stood free between England's defence and midfield for what seemed like an age. Breaking upfield after goalkeeper Lovre Kalinic had gloved a Dier cross, substitute Josip Brekalo held the ball on the right touchline and waited patiently for Vlasic to act.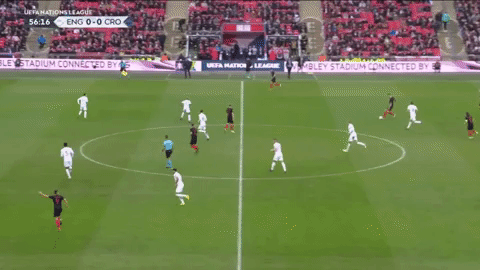 Eventually, with John Stones reprising the costly extra-time somnolence he exhibited last July, Vlasic ran off the central defender and cut back for Kramaric to score. Neither Dier, nor Barkley, nor Delph, thought it important to drop onto Vlasic in the build-up; Dalic's tactical tweak had, to some small extent at least, paid off.
Set-piece pre-eminence
Luckily for England, their equally longstanding pre-eminence at set-pieces, paid off handsomely, too. Southgate's side created a whopping 10 shooting chances from dead-balls, with the marauding Ben Chilwell central to both winning and taking many of them.
Eventually, two of those shots hit the net, as both Jesse Lingard and Kane profited from a long throw-in and an indirect free-kick respectively. Croatia had prevailed upon Spain's poor set-piece defence to win three days earlier; now they had been undone by some shoddy minding of their own.
Yet, a mere three minutes before Kane's winner, Domagoj Vida had a header cleared off the line from a corner-kick of Croatia's own. And Dalic's side also perhaps deserved a first-half penalty for Joe Gomez's byline foul on Kramaric. Had either of those two events gone Croatia's way, July's 2-1 scoreline could easily have been repeated rather than upturned. England, rather than advancing to next summer's finals, would have faced relegation from the top-tier, with Croatia enjoying the exact opposite reversal of fortunes.
Conclusion
This Nations League is not too bad then, eh? Nor, for that matter, is this England side. After finally admitting defeat on the 3-5-2 front, Southgate and co have unequivocally plugged up the wide areas from which England's opponents were frequently deciding their contests. From allowing 41 Croatian crosses in July, England only endured eight here.
And the shift in shape, away from Southgate's build-up diamond — based by Stones and tipped by Henderson — has not materially affected England's collective ability to weather pressure either. A halving of the volume of long balls played in the semi-final, from 101 to 49, speaks volumes in that regard. Armed also with an irresistibly fluid front-three, notwithstanding Kane's ongoing struggles, the sky appears to be the limit for his youthful England side. Only those pesky defensive transitions, that temporarily plonked them in the relegation mire here, remain unresolved.
Follow the author, Alan O'Brien, on Twitter:  Follow @alanob2112